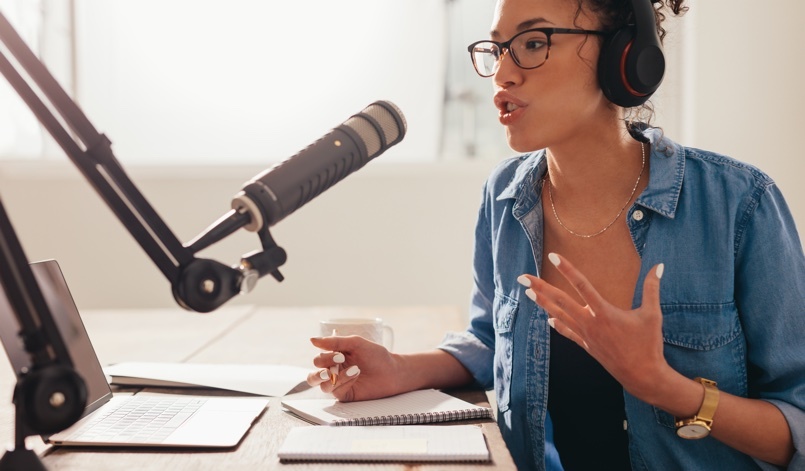 What Do You Need To Start A Podcast – The Ultimate Guide
Reading Time:
15
minutes

Everything you need to know to launch a podcast

This article may contain affiliate links. If you make a purchase through these links, I will earn a commission at no extra cost to you. Thank you.

There is no denying the meteoric rise of podcasts in the past 12 months. Covid forced us to stay at home and connect online. For many, podcasting provided a new platform to maintain networks and establish a voice of authority.
According to the 2019 Edison Research Podcast Consumer Report, 51% of Americans aged 12+ have listened to a podcast, with 32% having listened in the past month, and 22% in the past week. (shopify.com) At least 70% of U.S. adults know what a podcast is which demonstrates podcasting has truly become part of everyday life.
I launched my podcast in 2020 and rapidly learned how to build a successful podcast on a small budget.
While the rest of New Zealand was contributing to a flour shortage baking bread and assorted treats, I channeled my energy into launching a podcast based on my experience of breast cancer.
The C Word Radio launched in July 2020 and has grown into a thriving community who tune in for weekly podcast episodes.
Podcasting does not need to be daunting! Or expensive, one of the wonderful things about being a podcaster is you can set yourself up with a microphone in your living room and produce a quality podcast.

Here is a list of actionable steps you can take today in order to start a podcast in 2021.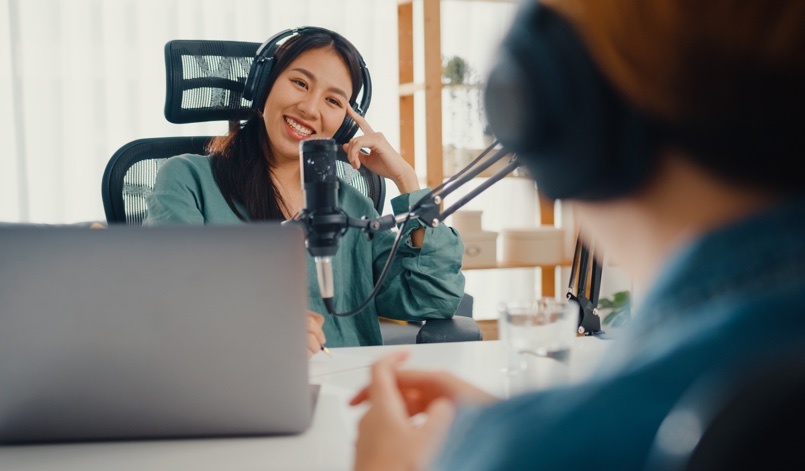 Our best tips to start a podcast in 2021 – for beginner podcaster
Why now is the perfect time to start a podcast

There are over 1.7 million titles available for avid podcast listeners and the hunger for compelling audio does not look like it will slow down anytime soon.

Podcasting showed its resilience during the pandemic as listenership continued to grow (Nielson Company, 2021). Twenty-five percent of podcast listeners are downloading and listening 2-3 times a month (Nielsen Scarborough Podcast Listener Buying Power, November 2020 (Listeners Only) 18+).

Covid changed our work habits with a huge portion of the workforce working from home. Although heavy podcast listeners tended to listen on their morning commute, people are listening at home, at the gym, and in other locations.
Before you start a podcast you need to consider the following points
#1 Every podcast starts with an idea
Potential podcasters might be tempted to jump feet first. Before you think about investing in expensive equipment and a podcast hosting platform you need to do market research. There are millions of podcasts available across Apple Podcast, Spotify, Google Podcasts, and other podcast directories. Ask yourself what will make your podcast stand out to your target audience?
If you are considering launching a podcast for your business a good place to start is to think about what your magic sauce is – what is it about your business that attracts clients? If your podcast idea is related to a hobby or other interest the same principle applies – what is it you can offer that is different?
#2 How much time can you invest?
Podcasting is an enormous amount of fun and can help accelerate your growth but it's also a lot of work. You must be passionate about your topic! Your passion will propel you on the days when you lack motivation.
How much time can you invest in your podcast? One of the things that surprised me when I started the C Word Radio was how much time went into recording, editing, and promotion. If you are time-poor, consider publishing fortnightly or monthly episodes. Or record your seasons in batches to save time.
Outsourcing elements of the production of your podcast to a podcast audio editor or podcast manager is one-way many business people and entrepreneurs manage time commitments.
#3 Host or co-host?
If you are planning to make a co-hosted show make sure you have an open discussion about who will be responsible for different duties and how much time you can both realistically commit. Much like a group project you do not want to create resentments early on by one person doing all the heavy lifting!
#4 What do you want to achieve by launching a podcast?
People start podcasts for lots of different reasons. I launched the C Word Radio because I wanted to create a community of cancer survivors and provide a platform for authentic storytelling.
You might want to create a new communications channel for your business or build a community around your passion. Your 'why' is important because it will help guide you as you think about episode topics.
How to start a podcast
Once you have done your research and are committed to launching a podcast your next step is to plan your first four episodes.
Use this step to explore elements such as the length of your podcast episodes. There are no hard and fast rules around the length of your podcast episodes. One point to consider is your audience, for example, are they time-poor executives? You can experiment with the length as you go – if you have a very interesting guest 60min will fly by for your audience. Or you might feel comfortable with 15min solo episodes talking about one topic. It's up to you and don't be scared to play around and figure out what works.
Claim a space that will be your recording zone. Your audio quality is impacted by where you record your podcast episode. If you have kids this can be tricky but you can hide in a closet if necessary! (I'm not kidding, a closet is actually quite a good place sound quality-wise).
To produce consistent episodes I recommend planning a process that works for you. My process for recording an episode goes in this order: choose a topic, book guests, record, edit, load to Podbean for publishing to podcast directories, create social media content, load content to Buffer.
Depending on the style of your episode your process may look different but this gives you an idea of what you need to consider.
A common format for an interview-based podcast is intro music, host introduction, interview with a guest, and outro with music. Think about popular podcasts you enjoy and what format might suit your podcast.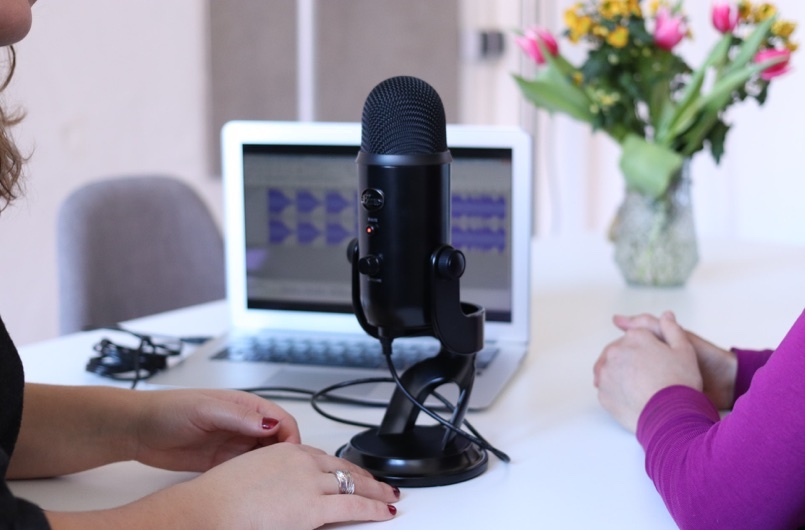 What tools do you need to start a podcast? @cowomen
Essential tools for creating a podcast episode
The good news is you do not need to spend a small fortune on podcast equipment. A very basic setup is a USB microphone, computer/laptop, editing software, and podcast hosting platform.
How to choose a microphone
When you enter into the world of podcasting you will find out there's a new language to learn! The main considerations for choosing a podcast microphone are; condenser vs. dynamic, USB or XLR microphone, and price.
Condenser or dynamic?
If you are recording at home I recommend a dynamic microphone rather than a condenser. The reason is if you are a DIY podcaster it's likely you're recording at home and not in a professional recording studio.
In very simple terms a condenser microphone is more sensitive and will pick up noises such as air conditioners and lip/ mouth smacking sounds.
A dynamic microphone is better at masking some of these sounds in a home recording environment.
You may want to consider a pop filter to help minimize the 'pop' sounds some words create.
The best budget-friendly dynamic microphone in my opinion is the Samson Q2U.
The Samson Q2U is a popular option among remote podcasters. I use this microphone often when I record podcast interviews and like the quality of sound, it creates. The Samson is USB and XLR adaptable (an XLR adaptor is used in the audio industry and is plugged into a mixer whereas a USB plugs into your computer).
If you have more money to invest, both Rode and Shure are known for making high-quality microphones. I also use the Rode PodMic with my Rodecaster Pro mixer which is a setup I'd recommend if you have more experience with recording and mixing.
Podcaster Heather Welch has started a fantastic resource for women in podcasting to help choose which microphone suits their voice.
Check out Women on Mic for a comprehensive list of microphones and recordings of how different voices sound through the mics.
Headphones
Headphones are important for both the recording and editing processes.

Podcast hosting services
One of your essential tools will be a podcast hosting platform. This is where your podcast will 'live' and create the RSS feed to publish your podcast to Apple Podcast, Spotify, Stitcher, Google Podcasts, and other podcast directories.
Your RSS feed is what distributes your podcast to podcast directories. When you sign up to platforms such as Podbean, Libsyn, Buzzsprout, and Anchor it will enable you to create a unique RSS feed for your podcast.
Anchor is a free podcast hosting service that can be a good option if you are testing the water with your podcast. All of the main podcast hosting services are good options and have options for different budgets.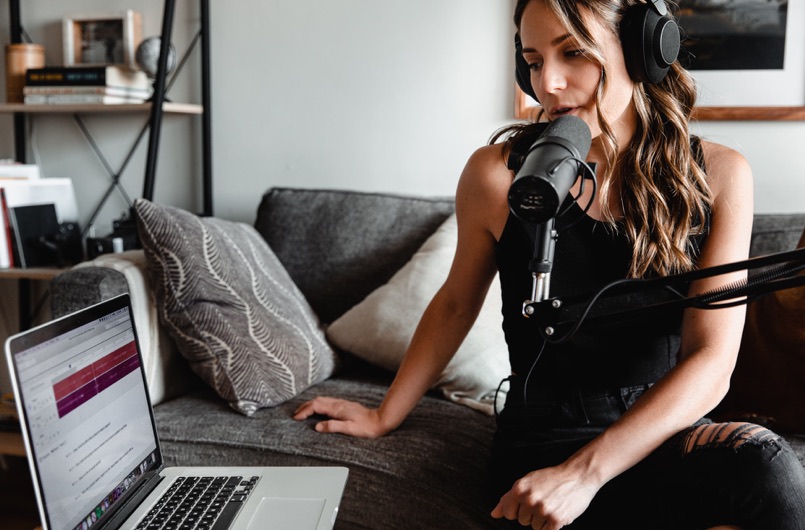 All you need to know about podcast platforms, podcast music, potential listeners, audience growth, and podcast equipment. @soundtrap

How to record and edit a podcast
Recording a podcast
Zoom became part of everyday life in 2020 and it's also a handy tool for podcasters. Zoom recordings create a downloadable MP3 file that can be edited for your episodes. You also have the option of creating two separate tracks if you have a guest, this will be useful if you have an audio editor.
Other platforms podcasters use to do remote interviews are; Riverside FM, Squadcast, and Skype. As long as you can record and have an MP3 or MP4 audio file at the end most video conference platforms are sufficient.
The sound quality is usually good using these podcast platforms. Make sure you have a good internet connection to minimize distortion in your audio recording.
If you are recording solo episodes your video conference platforms are one way of recording or you can record into your DAW (more about that soon).
Editing a podcast episode
For some budding podcasters the post-production process, including editing, can feel like a hurdle. There are many explainer videos on YouTube showing you how to do a basic edit or you can work with a podcast coach to learn.
You will need a DAW (digital audio workstation) to edit and mix your audio recording. Do not be scared of this step! I love editing audio, listening to my interviews has helped me improve as my podcast has progressed.
At a very basic level the steps for editing are importing the MP3 or MP4 file of your interview/ episode, listen through to find any obvious issues (dogs barking, background noise, traffic sounds, air conditioning, etc), take out filler words (um, ah, mm), remove false starts (where someone starts a sentence then changes direction).
Once you are happy with the first cut you will normalize the audio (bring the audio to a constant level), add intro and outro, ads if you have them, and music.
For new podcasters I recommend not overcomplicating your editing, you will improve and learn as you progress. At the beginning focus on quality recording, a basic edit and you will have a good foundation to grow from.
I recommend the software Audacity for beginners because it is free, has an easy interface, and has all the basic functions you will need.
Adobe Audition, Garageband, and Auphonic are also good choices for beginners. Check out this article for a good rundown on the best DAWs for podcasters before you make a decision.
I use a mix of DAWs and highly recommend Hindenburg if you are more experienced with audio and editing multi-tracks.
Anchor has the capability to edit, as a free platform, it is a good option for aspiring podcasters who want to test the waters.
Choosing podcast music
In an average 40min podcast episode you may have 30-45 seconds of music including intro music and outro music. The music industry has strict copyright and usage laws so you will not be able to use your favorite music for your podcast.
The best way to choose music for your podcast is to use royalty-free resources, there are good options such as the Free Music Archive and Audio Jungle. You may need to pay a small fee but that's much better than a huge fine for using the latest Beyonce track!
Other resources for free and low-cost music are:
Why audio quality matters
I may be biased here as a podcast audio editor but I believe the quality of your recording is important. Podcasting is an intimate medium, people often listen with earphones in or they may play an episode as they potter around the house. You want the whole listening experience to be enjoyable so they are enticed to come back.
Take time to think about the environment you are recording in – carpeted floor is better, smaller space for less echo, windows closed (avoid traffic noises), and record away from fans/ air conditioning units if you can. I once recorded hidden under a blanket to improve the sound quality!
Spend time familiarizing yourself with your microphone and how close you need to be to pick up a clear and even recording.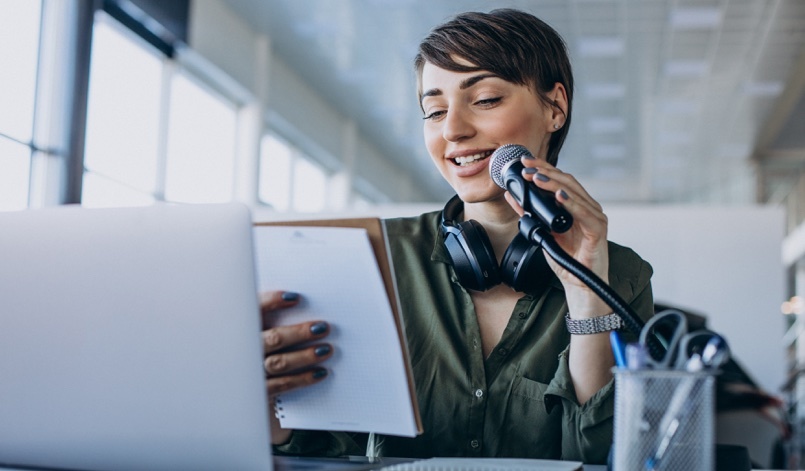 How do you create an audience for a podcast?
Starting a new podcast with no following
When I started The C Word Radio I had no following. I leaned on my experience as a journalist and communications to network and build up an audience.
Start with your immediate network and expand from there – tell everyone you know you are starting a podcast. And then tell them again. Use your existing social media to promote your podcast and ask friends, family, and the postman to share!
Choose two-three platforms to focus your attention, it's better to do this than spread yourself thin. For example, my main demographic is women, 35-65 who have had cancer. I very quickly discovered they are big Facebook users and younger women are more likely to be on Instagram.
If your podcast is for your business LinkedIn is the perfect platform to promote your podcast and create engagement. Around two percent of LinkedIn users create content, this means you have a good chance of generating engagement.
Building a podcast audience from scratch
Podcasting is a long game, for the majority of us, we will slowly build a loyal audience of listeners. There are certainly podcasters who capture their niche well and attract higher numbers but you need to set realistic expectations.
It is very easy to get caught up in worrying about download numbers, followers, engagement….this will be controversial but downloads and numbers aren't necessarily a measure of success.
Let me explain. Podcast directories like Apple Podcast, Spotify, Google Podcasts, and Stitcher all capture metrics of plays and downloads for your podcast. A download does not always equate to a listen or someone who has come back.
If your podcast is about postage stamps produced in the 1950s with flowers on them chances are your audience is going to be niche. Ten downloads might reflect the entire community for this topic.
Another way to think about downloads is, how many times can you say you have a captive audience in person of 50 or more people?
Letting go of downloads and followers as a mark of success will help you focus on the most important element of podcasting; your 'why'. My 'why' is to create a community for people who have been impacted by cancer. When I get messages from listeners saying the podcast has felt them feel less alone, that is a real example of impact.

How to attract podcast listeners
The number one way to attract your target audience to your podcast is to produce a quality product. Podcasting is an intimate medium, listeners are looking for authenticity and connection. Covid has amplified the need for connection as many of us cannot socialize or work in person.
Take time to plan your episodes, screen potential guests, and think about topics that are going to draw in your ideal audience. This is especially relevant for podcasts for your business. Your podcast is the ideal opportunity to set yourself up as a voice of authority, you are more likely to do this by being consistent.
Attracting podcast listeners links back to building an audience, telling everyone you know, go where your ideal listener is and create a quality product.
Once you have a few episodes under your belt look for other podcasts to be a guest on. Think about what podcasts your audience listens to and offer yourself as a guest. This is one of the best ways to cross-promote your podcast and expose yourself to new listeners. Sign up to podcast guest and collaboration groups:
Matchmaker.fm is a huge community of podcasters and people looking to be guests on podcasts. It's a great resource to sign up to and find exposure for your podcast.
Other groups:
Weighing up the pros and cons of starting a podcast
Creating a podcast is a fantastic experience that can open your world up to new communities and enhance your business. Podcasting is also labor-intensive and requires persistence.
The pros of podcasting
The opportunity to grow a community
Establish yourself as a voice of authority
Podcasts are versatile and can be repurposed as blog content, social media posts, and other content
Reach new clients
The cons of podcasting
Podcasting takes a lot of work – you will need to factor in time to plan episodes, find guests if you have an interview-style podcast, learn how to record and edit, and promote each episode
Pod fade – there will be times you hit a wall and your podcast feels more like a chore
You may not see quick results
Social media is the best way to promote your podcast especially if you have a small or non-existent budget. I use a basic recipe and tweak things from time to time.
For each new episode, I create two audiograms using Headliner, I pull two strong quotes from my guests and use Canva to create images. I create my social media posts in batches and use Buffer to schedule them over a week. I do at least 4-5 posts on Facebook, Instagram, and Twitter for each episode.
Audiograms are great because they are short videos and platforms such as Instagram and Facebook love videos.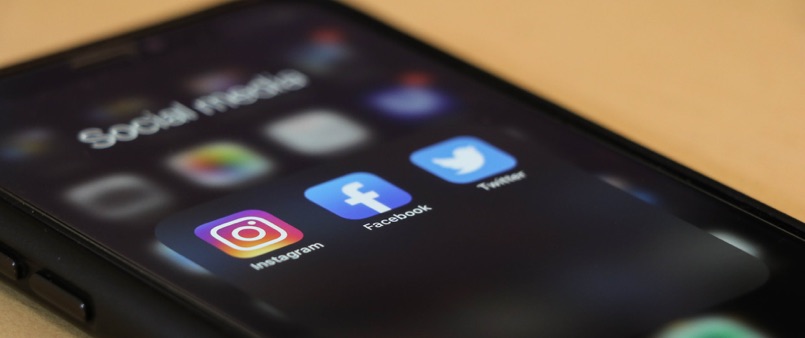 Use social media to promote your podcast
If you are recording your podcast episodes on a video call platform consider publishing the video on YouTube. YouTube is one of the biggest search engines so it makes sense to have a presence.
Your social media posts don't need to only be for new episodes. I do a mix of personal, episodes and links I find interesting about cancer I know my audience will find interesting. For a podcast like The C Word Radio, I have found sharing my personal stories creates greater engagement. Podcast listeners love the ability to engage with hosts of their favorite shows. Don't be afraid to provide a snapshot into your life to create a connection with your audience.
Livestreams on Facebook, Instagram, and YouTube are another avenue for aspiring podcasters to create engagement on social media. A good example of this is podcasts that live stream their episode recording, this is an excellent way to build a following. The other benefit of video is if a potential listener missed the live stream they can still catch up on it later. Videos get a lot of reaches especially on Facebook, Instagram, and YouTube.
Why a podcast can help your business
Covid is unlikely to go away any time soon which reduces our ability to network in person. This is why so many people have turned to podcasting as a safe way to network.
According to Podtrac, the top five booming podcast categories are business, history, news, arts, and sports. Podcast consumption is not going to drop anytime soon, there is a huge appetite for good content and expert opinion. When done right a podcast is a strong tool to sell your skills and services to your target audience.
There are several reasons for this including; podcasts have the ability to create a community where you or your business is the focus, you can establish yourself as an industry leader, each episode can be repurposed as a blog or thought piece saving time on creating content, you can share industry advice, tips, and specific work-related experiences. Much like a blog but with far greater reach.

Monetizing your podcast
I'm going to keep this part short and sweet! Podcasts present advertisers with an appealing option. One of the benefits for advertisers is podcast listeners trust podcast hosts they frequently listen to. This means they are more likely to buy or try products recommended on the podcasts they listen to.
With the number of podcasts available, advertisers have a lot to choose from. At the start, I would concentrate on building a podcast that attracts the listeners YOU want, your ideal clients, or a podcast that reflects your brand. You are more likely to attract advertisers or sponsorship if you are consistent and produce a high-quality podcast.
What do you need to start a podcast – A few final words
There is a lot to consider when you are starting a podcast. I had the benefit of a background in radio production and journalism when I launched the C Word Radio. Your podcast does not have to be perfect! In fact, we learn when we make mistakes, and letting go of perfectionism is when we have the most growth.
Take your time to do the research, figure out what is going to work for you, and take the plunge.
And, as a *BONUS*… here are 10 must-follow podcasts for women in tech.


Do you want to learn in-demand digital skills, and connect with our experienced female mentors? We want to hear from you!
Discover our 1:1 Online Courses or contact Gurvi Movement.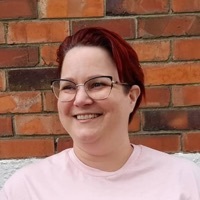 Helen King is a journalist turned podcaster who runs HK Productions, a podcast management business based in Auckland, New Zealand. She works with podcasters in New Zealand and the USA. Helen is the host of The C Word Radio, a weekly podcast about life after a cancer diagnosis and finalist in the New Zealand Radio Awards 2021.
When she's not podcasting, listening to podcasts, and editing podcasts Helen enjoys spending time with her partner and two rambunctious rescue dogs Lenny and Koki.